Description
Roller Blinds are an elegant method of interior window decoration. When you decide to decorate your window with this product, you benefit from a wide variety of fabrics and colors you can choose from.
They are designed to be easily adapted to a variety of interior arrangements and to fit well with various decoration possibilities.
We provide high quality roller systems with different maneuvering possibilities.
There is the possibility of using a cassette system for an improved and more pleasant look.
Sizes can also vary greatly, thus adapting perfectly to your window. The rollers can be installed on the window frame but also on the ceiling, depending on your tastes.
We can also offer the possibility of electrical operation by remote control or by wall switch. Certain fabrics can be blackout, meaning that the outer part of the fabric is specially treated, thus preventing total sunlight penetration, providing a perfect light control.
There is also the possibility to print on different fabrics an image belonging to the customer or choose from several options that we can provide, for a customized look that better defines your personality.
Tehnical details
A simple idea but that has an amazing effect due to the wide range of materials, colors and different types of handling that you can choose from. These materials can be standard or black-out type. The black-out ones are rubberized on the back, the light rays being prevented from entering in proportion of 100%.
Features of the used materials
Axle:
Material type: anodized aluminum profile, with the diameter of 25mm, 28mm or 38 mm.
Origin: import from Sweden.
Closing bar
Material type:
anodized aluminum profile
profiled sheet
wooden rod
Origin:
Textile material:
Textile material type: impregnated textile material
| | |
| --- | --- |
| Denumire | Name |
| Smeraldo | 100% polyester |
| Smeraldo blackout*) | 100% polyester |
| Citrus | 100% cotton |
| Capri | 100% cotton |
| Laura | 100% polyester |
| Matros *) | 100% polyester |
| Game*) | 100% polyester |
| Natti Natti*) | 100% polyester |
| Bone Nuit*) | 50% cotton, 50% polyester |
| Happy End*) | 50% cotton, 50% polyester |
| Tyko*) | 50% cotton, 50% polyester |
| Firenze | 100% polyester |
| Bas | 100% polyester |
Note: the materials marked with are of "blackout" type and do not allow the passage of light.
Slat origin: Import Sweden, Italy.
Slat colors: upon request for a wide range of colors for each type of material.
Possible dimensions of the interior roller made in impregnated textile material.
Roller width: 35cm … 300cm, depending on the needs of the beneficiary.
Roller length: up to 300cm depending on the needs of the beneficiary.
Operation system::
The operation system is designed so as to provide easy handling with minimal effort.
The operation system can be realized in two variants: manual operation system and electric operation system
The manual operation can be performed in two ways: with spring, with chain:
The manual spring system allows the roller to roll on the axle by means of a spring mechanism. The roller's lock in an intermediate position is possible.
The manual chain system allows the roller blind to roll and unroll by operating a bead chain. This system allows stopping at any intermediate position.
Electric operation system allows rolling / unrolling of the roller with the push of a button. The electric operation is made with a motor operated system, of continuous current of 24V, applied in the axle of the roller blind. The operation system is fitted with a cruise control that allows adjustment of the roller blind operation within the preset limits. The blind can be fitted with a remote control system (which contains an infrared remote, a receiver for this remote).
The fastening system may allow the roller's catching in any position related to the window.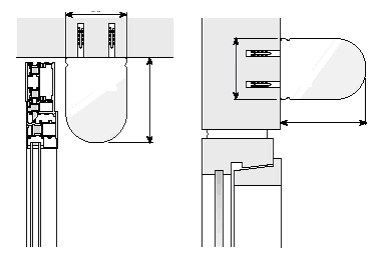 Maintenance
Very easy (also due to the fact that the material is anti-static impregnated).
– monthly is recommended the removal of the dust deposited on the slats with a brush or a electrostatic whisk.
– whenever necessary, after dusting, slats will be cleaned by washing them with a sponge in water temperature that does not exceed 40o. The material is treated and does not require ironing.
Roller blind with chain drive
Roller blind with spring drive
Roller blind with electric motor drive