Description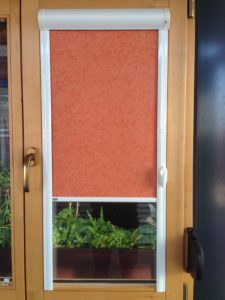 MINI roller blinds are an elegant product, fitted with winding mechanism box containing the jalousie. They are mounted in the window frame, they do not diminish brightness,nor deteriorate the window frame.
Preventing sunlight to penetrate into the interior, the MINI roller blinds offer a cozy atmosphere inside the house for a long time.
A major advantage is the small space required for installation, thereby allowing the best possible opening of the window. Therefore it is perfectly suited for narrow places that require a larger economy of space and a large window opening.
there is a big diversity of fabrics and colors, each of them representing various beneficial features.
The main benefits of the MINI roller blinds include:
– Small space required installation and handling
– Efficiency, modernity and elegance
– Ensure total privacy by blocking visibility
– Handles easily and accurately
– It Can be purchased in a large various colors and fabrics.
Tehnical details
The MINI Roller blind comes with a mechanism for winding placed in aluminum box. It is equipped with aluminum guide profiles.
This type of blind is designed for mounting in the window frame. It does not damage the frame, nor does it take the brightness away from the window.
The MINI roller blind with casette should not exceed the length of 1200mm and height of1800mm.
How to measure:
A correct measurement requires two steps:
Step 1: Measure the size of glazing that gives the size of the fabric.
Step 2: Measure the distance between the baguettes that gives the final size of the casette.