Description
The Curtain Wall components that our company uses offer very high stability over time and provide good thermal insulation and durability allowing the possibility of covering large glass surfaces.
The SCHUCO profiles that we use are of German origin and offer high structural qualities.
Curtain walls are suitable for the façades of commercial buildings and for homes with modern architecture.
The large glass surfaces thus obtained are a plus when it comes to office buildings and various public sector constructions.
Our company has extensive experience in this field, having a portfolio of successful projects where we have shown professionalism and positioned as a top competitor in this field.
Both the latest technology that we apply and use in the manufacturing and assembly processes and the professionalism of our workers influenced positively the outcome of our work.
Tehnical details
SCHUCO Fassade FW 50+/FW60+
Endless possibilities of a tried and tested system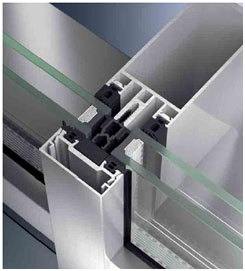 Starting from the facade thermal insulation and maximum thermal insulation up to standard, the system Schuco FW 50 + and FW 60 + offers the right solution for every scenario and every climatic region.
Complex geometric structures can be constructed easily.
A wide range of cover caps offer a great variety of designs for the most diverse styles of facades.
Can be used as a facade fire resistance..
Electrical cords can be hidden in the facade system but can be accessed for inspection.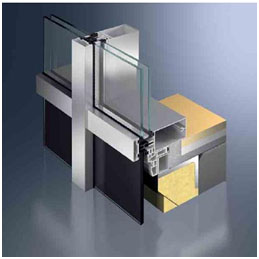 Systems Schuco FW60 + and FW 50 + facades and skylights allow very different designs to be built efficiently and reliably.
Compatibility with many systems make Schuco Schuco FW 50 + and FW 60 + two of the best-selling facade systems in Europe.
Varietate a designului
Profiles of the upright bearing steel and insulated beams offers elegant appearance and robust, large facades.
Specifications and Benefits
Well defined design, elegant pillars and beams due shaped I and T.
Compressors steel U-shaped clamping screw visible highlight the technical nature of the system.
Special profile for attachment of the superior parts and lower floors allow very low construction and isolation, but provides secure fit thermal barriers without the need for additional mechanical fastening.
Profiles pillars and beams are available in graduated sizes to meet the varied structural requirements.
Specifications and Benefits
All profiles bearing inner face have a width of 50mm and small corners.
The system is designed for loads up to 185kg of glass.
Geometry of the folded profile with drainage and exterior use, butyl tape and EPDM gaskets provide double protection against inclement weather.
SCHUCO Fassade FW 60+ SG structural facades

The Schuco FW 50 + and FW 60 + SG SG can be used to create impressive large structural facades. However, this type of facade is very comfortable for small applications.
Smooth appearance of the facade is due to the use of profiles that are visible only on the inside.
On the outside, only thin glass elements are visible. Due to special insulation used at the corners and the gas filled glazing, the value of Ug obtain very good.
SCHUCO Fassade AOC 50 (60) ST.SI/AOC 50 (60) TI.SI

This facade system can be applied to existing steel structure (ST) or wood (TI), while getting the best insulation values although installation is very easy.
Width is 50mm or 60mm and it combines energy-efficiency with manufacture and installation efficiency.
Uf value for systems built on steel or wood structure is only 0.8 W/m²K.
SCHUCO Roof Window AWS 57 RO.HI

Roof Window AWS 57 RO.HI has a very high level of energy efficiency and a wide variety of options in terms of design even for large glazed roof space.
Specifications and Benefits
A high degree of flexibility due to the two types of outer frame depths and two different standards of thermal insulation.
Very good properties in terms of water flow and self cleaning properties.
Different options in terms of design with hidden fixings or trapezoidal shapes.
Possibility of electric motor operation. Operation will be done by remote control radio waves.
Can be used as a natural ventilation system against heat and cigarette smoke.
It is possible an opening angle of 90 degrees.
Burglary resistance.